My ferrets took the ferret food and made piled it into a pyramid under my bed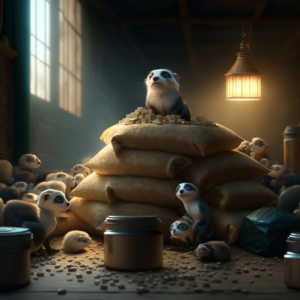 When I came back from work one day, I was ready for the usual welcome home routine of my two ferrets eagerly greeting me with happy chirps. But instead, all that greeted me was an eerie silence. As soon as I had stepped inside my house, something seemed amiss, and so I made my way to find out what it was… sure enough, when I reached under my bed – there they were! My naughty little duo had taken their food and piled it into a pyramid-like structure right underneath where I slept every night!
At first glance, this pyramid made of kibble pieces almost looked like some kind of art project or even a sculpture! Despite being in awe at their creativity, however; it also reminded me that keeping up with these mischievous furballs can be quite a challenge sometimes. Nevertheless, while taking away their prized creation sent them into an angry fit – it only strengthened my resolve to keep on pet-parenting them and try harder next time around!